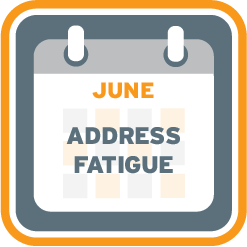 Prevent fatigue-related crashes
This month's road safety goal is to prevent fatigue-related crashes. Choose 1 or more of the following activities to help you reach that goal.
Good
Review our Driver Fatigue Tool Kit
Hold a tailgate meeting to discuss the risks of driving while fatigued, contributing factors to fatigue, and what drivers can do to avoid driving while impaired by fatigue.
Train drivers how to adjust seats, head restraints, foot position, and mirrors before they start on their trip.
Establish open lines of communication so that employees are willing to raise fatigue-related issues with supervisors or managers.
Resources:
Better
Educate managers, supervisors, and drivers about the signs of fatigue.
Watch our Re-thinking Fatigue Risk and Driving webinar
Resources:
Best
Develop a fatigue management policy and program or review your existing ones.
Use journey management and trip planning to help reduce the risk of a fatigued driver getting behind the wheel.
Make effective communication a key part of implementing that policy.
Resources:
Road Safety at Work is your best source for information and practical resources on occupational road safety. Please contact us if you have any questions.