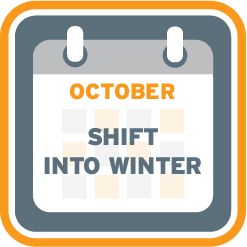 Shift into Winter driving
This month's road safety goal is to prepare for winter driving conditions. Choose 1 or more of the following activities to help you reach that goal.
Good
Review our Shift into Winter Employer Tool Kit.
Have employees review our winter driving information to learn how to adjust their driving to match road and weather conditions.
Have employees watch our 1-hour Shift into Winter: Practical BC Winter Driving Tips webinar.
If you're a commercial carrier, review our information on winterizing your road safety program.
Resources:
Better
Complete our Winter Driving Safety for Employers and Supervisors course.
Watch our 1-hour Keeping Your Employees Safe During Winter Driving webinar
Hold a tailgate meeting to discuss what you learned.
Resources:
Best
Develop a winter driving safety policy or review your existing policy.
Have your drivers review our guide on when, where, and how to chain up.
Resources:
Road Safety at Work is your best source for information and practical resources on occupational road safety. Please contact us if you have any questions.