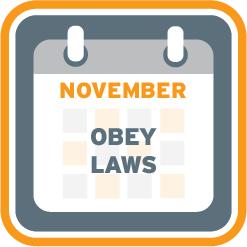 Obey laws and company requirements
This month's road safety goal is helping your employees to understand and apply BC driving laws as well as company driving policies and procedures. Choose one or more of the following activities to help you reach that goal.
Good
Have employees take a practice road safety test online.
Resource:
Better
Conduct seatbelt spot checks as employees drive out from the office or the yard.
Follow up by recognizing good results and coaching employees who don't comply.
Develop a safe driving policy or review your existing policy.
Resource:
Best
• Develop a safe driving handbook for your employees or review your existing handbook.
• Incorporate preferred driving practices such as those in the ANSI/ASSP Z15.1 standard.
Resource:
Road Safety at Work is your best source for information and practical resources on occupational road safety. Please contact us if you have any questions.