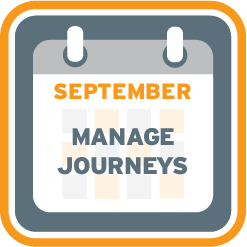 This month's road safety goal is to eliminate unnecessary driving by employees and managing the risks of necessary driving. Choose 1 or more of the following activities to help you reach that goal.
Good
Review our Journey Management and Trip Planning Tool Kit.
Watch WorkSafeBC's 3-minute video Driving for Work: The Journey Management Process at a safety meeting and discuss.
Use our easy TripCheck online tool to plan trips in as little as 3 minutes.
Resources:
Better
Develop or enhance your journey management and trip planning policy.
Have drivers watch our 1-hour At the Crossroads: How to Travel Through Intersections Safely Webinar.
Use ICBC crash maps to review 3 routes your employees drive frequently. Identify alternatives if those routes include high crash frequency intersections.
Resources:
Best
Complete our online course Building an Effective Journey Management Process. From the list in Lesson 4 Topic 2, identify 2 components you'll focus on in the coming year.
Resource:
Road Safety at Work is your best source for information and practical resources on occupational road safety. Please contact us if you have any questions.