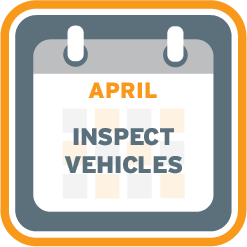 Inspect work vehicles regularly
This month's road safety goal is to inspect work vehicles regularly so they run smoothly and get your employees to their destinations reliably and safely. Choose 1 or more of the following activities to help you reach that goal.
Good
Review our Vehicle Inspections and Maintenance Tool Kit
Use our Conducting Vehicle Inspections Tip Sheet
Hold a tailgate meeting and watch our 6-minute video on pre-trip and post-trip safety inspection.
Resources:
Better
Download and customize one of our vehicle inspection forms. Discuss the form with drivers and show them how it fits into your road safety program
Assess your vehicle inspection process through spot checks and employee feedback.
Complete our Supervising Employees Who Drive For Work course.
Resources:
Best
Build continuous improvement into your vehicle inspection process. Keep track of how many inspections employees do and how many reports they submit. If you're getting less than 100% of the reports you expect, set targets to improve reporting and make a plan to achieve them.
Resource:
Road Safety at Work is your best source for information and practical resources on occupational road safety. Please contact us if you have any questions.