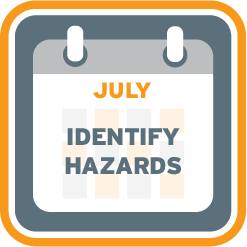 Identify driving-related hazards
This month's road safety goal is to identify hazards that are likely to cause crashes. Choose 1 or more of the following activities to help you reach that goal.
Good
Review our Hazard Identification and Risk Assessment Tool Kit.
Work together with your employees to fill out our Driving-Related Hazards Checklist.
Hold a tailgate meeting to discuss road hazards and ask employees to identify hazards that concern them.
Act on 2 or more of those hazards.
Resources:
Better
Take our Controlling Exposure to Driving-Related Hazards online course.
Resource:
Best
Develop an inventory of driving-related hazards that your employees are likely to face.
Discuss with your health and safety committee or representative to find ways to reduce the risk for 3 or more of the hazards.
Resource:
Road Safety at Work is your best source for information and practical resources on occupational road safety. Please contact us if you have any questions.