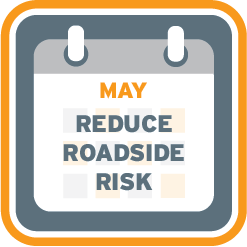 Ensure safety for roadside workers
This month's road safety goal is to reduce the risks for everyone who works at roadside. Choose 1 or more of the following activities to help you reach that goal.
Good
Review the employer and supervisor tools at ConeZoneBC.ca.
Have employees review the worker tools at ConeZoneBC.ca.
Have all staff review the rules for driving around cone zones and complete a quiz.
Download Cone Zone campaign resources and share them with your staff and colleagues. Encourage everyone to share them with their networks.
Show your support by putting up a poster or using a custom email signature.
Resources:
Better
Hold a tailgate meeting with drivers to discuss roadside safety and procedures to follow in case of a vehicle breakdown.
Print our What to Do if You're Involved in a Crash checklist and keep it in the glove box of every work vehicle.
Resource:
Best
• Develop an emergency response procedure with an effective check-in system.
• Educate employees on the emergency response procedure.
Resource:
Road Safety at Work is your best source for information and practical resources on occupational road safety. Please contact us if you have any questions.