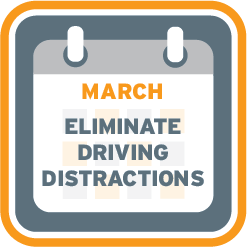 Eliminate employee driving distractions
This month's road safety goal is to help employees eliminate distractions when they drive. Choose 1 or more of the following activities to help you reach that goal.
Good
Review our Distracted Driving Tool Kit.
Hold a tailgate meeting using our Preventing Distracted Driving guide. Ask participants to identify 1 specific thing they will do to eliminate distractions while they drive.
Have drivers watch WorkSafeBC's 2-minute video on distracted driving. It's available in multiple languages.
Have you and your employees complete our distracted driving quizzes.
Resources:

Better
At your monthly safety meeting, watch our Distracted Driving: More Than Just Phones 1-hour webinar
Discuss how you will apply what you learn.
Resource:
Best
Develop a distracted driving policy or review your existing policy.
Make effective communication a key part of implementing that policy.
Resource:

Road Safety at Work is your best source for information and practical resources on occupational road safety. Please contact us if you have any questions.