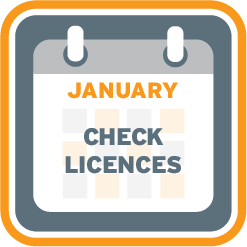 Check driver's licence and abstract
This month's road safety goal is to confirm employees who drive for work are legally authorized and safe to do so. Choose 1 or more of the following activities to help you reach that goal.
Good
Check the issue and expiry dates of the driver's licence of all employees who drive for work. Verify that their licence class(es) are appropriate for the vehicle(s) they drive.
Ask your employees if their licence has been suspended or has restrictions.
Review their driver's abstract for penalty points, prohibitions, and suspensions.
Resource:
Better
Determine how often you will check your employees' driver's licence and abstract and how you will store the information.
Resources:
Best
Develop a policy explaining how you will evaluate information on driver's abstracts (for example, setting a penalty point threshold). State what you will do to improve the driving behaviours of employees who exceed those thresholds (for example, driving restrictions, training, progressive discipline).
Resource:
Road Safety at Work is your best source for information and practical resources on occupational road safety. Please contact us if you have any questions.