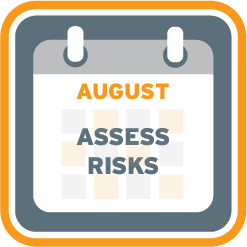 Assess driving-related risks
This month's road safety goal is to evaluate risks you've identified so you can set priorities for action. Choose 1 or more of the following activities to help you reach that goal.
Good
Review our Hazard Identification and Risk Assessment Tool Kit.
Hold a tailgate meeting to discuss progress on dealing with the driving hazards you identified last month with the help of the Road Safety Planner. Find out what's working, what's not, and what the next steps will be.
Use our Road Safety Risk Profile to identify your organization's driving-related safety priorities.
Resources:
Better
Assemble a staff team to assess driving risks using our RiskCheck online tool.
Resource:
Best
Schedule an annual risk assessments review with employees, members of your occupational health and safety committee, and management.
Determine how well your road safety risk assessment process is working and set new targets as needed.
Resource:
Road Safety at Work is your best source for information and practical resources on occupational road safety. Please contact us if you have any questions.