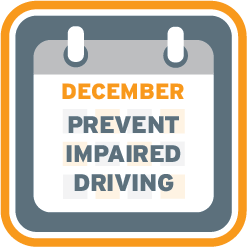 Address impaired driving to reduce risks
This month's road safety goal is recognizing and addressing impairment. Choose one or more of the following activities to help you reach that goal.
Good
• Hold a tailgate meeting and use WorkSafeBC's Substance Use and Workplace Impairment Toolbox Meeting Guide to discuss the risks associated with impairment.
Resource:
Better
• Learn more about impairment by reviewing the Impaired Driving Tool Kit.
Resource:
Best
Develop an impaired driving policy or review your existing policy.
Make effective communication a key part of implementing that policy.
Resources:
Road Safety at Work is your best source for information and practical resources on occupational road safety. Please contact us if you have any questions.